I'm thankful that I didn't...


...quit the warehouse job I had in

1987. If I had, I wouldn't have the job I love today. Now let me explain, and I hope I don't bore you guys to tears.


I was raised being told that God has a plan in life for all of us. In 1987, I got a job working in the warehouse of a school supply store. Around 1990, I contemplated quitting and finding something else. I couldn't and was getting frustrated. I had taken a "year off from college," and I had not gone back. I couldn't see this as a career and when I mentioned this to my mother, she said maybe I was supposed to be on this path.



*Rolled eyes at the time*



So I continued working there, got to Warehouse Manager and what happens...... In 1997, the company closed.



Thank goodness, the company that was bringing so much competition (another Parent-Teacher Supply store, new to town) needed a warehouse manager. So I helped CFSS close on a Friday and the next Monday started at CSP/TFT. I worked myself up to buyer, and then began being asked to take on extra, like working the warehouse, sales and setting up exhibits/shows, as well as my main job - buying. Between 60 to 70 hours some weeks and I am not exaggerating. There were times I wanted to walk out the door. But I didn't and many a times I felt like this.




Then in 2007, I saw an ad for the job I have. I took a chance and now I am happy to go to work. It is in the same industry - school supplies - except now I am helping put together catalogs for the Parent-Teacher stores like I used to work at.


Now you ask, how did twenty years hands on experience help me get this job? Because I had that experience and had the contacts, I was hired. More important, I know the history of the manufacturers. Just for shits and giggles, and for an example..... paper companies.



Back in the 80's, there were three major companies, all out of Appleton, WI. Pacon, Riverside and Bemiss-Jason. Now there is one major (Pacon bought the other two).

It is becoming all too common in our industry for new corporations to come in and buy the smaller "known" companies.


If you are a teacher, you understand.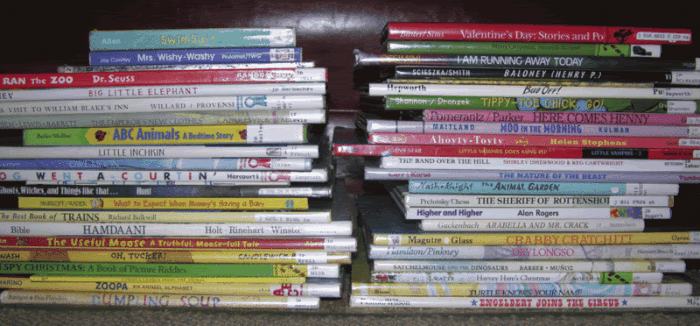 I also gained insight and knowledge at my last job with regards to the big publishing houses (Harper, Penquin, Random House, Houghton Mifflin Harcourt, etc) and how they work. This has been very helpful, because all that "stuff" I learned is now being put to use.


*note Houghton Mifflin Harcourt* (yep, Houghton Mifflin bought Harcourt Trade).
And I could sit all day and explain the meaning of the ISBN. LOLOLOL. But I will spare you.







So I guess basically what I am saying is it has been a long strange trip for me. If I had gone off course I don't think I would be where I am today...
Happy

Life is good.
Patience.
~~~~~~~~~~~~~~~~~~~~~~~~~~~~~~~~~~~~~~~~~~~~~~~~~

This is my submission to the GBE. This week's topic is "I'm thankful that I didn't...."


The GBE, or Group Blogging Experience is great fun. Each week (usually on Tuesday) we are given a general topic by our fearless leader Alicia and we have until that Saturday to blog about it. Say whatever you want. Silly, serious, true, fiction, debate.... whatever. It's up to you.
If your interested just go to
Alicia's Blog
and and check it out. If you want to participate comment her blog saying "I'm in", that's it. No big sign up or anything. You blog and she'll link to your blog and everyone else's on Saturday.


Make sure you're not private so that everyone can read your blog.